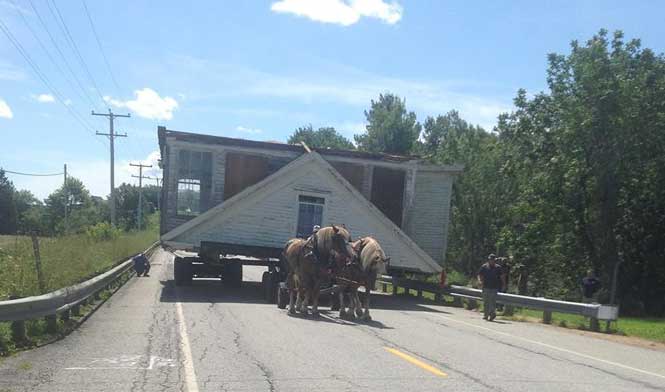 An old two-room schoolhouse in Knox has a new home. The Knox Historical Society took on the project of moving and preserving one of the last remaining schoolhouses in the area. The former East Knox Schoolhouse served students from 1897 to 1964 at its location on Route 137 at the foot of Frye Mountain, and then for years served as the Town Hall and polling place. In 1994, the town voted to build a Town Office on the Abbott Road and discontinue the use of the schoolhouse.
Since then a major goal of the Historical Society has been to reclaim and restore the building as a historical landmark and museum, as well as a useful space for a town in need of a gathering place.
In the spring of 2013, while laborers and volunteers partly dismantled the building, Knox Historical Society President Clayton Larrabee oversaw the groundwork, excavation, and construction needed at the new site.
In 2014, KHS Secretary Mary Ellen Twombly oversaw the restoration of the exterior, the new rear addition, and windows.